Artist Paula Wilson shows delirious swath of style at Tang show
William Jaeger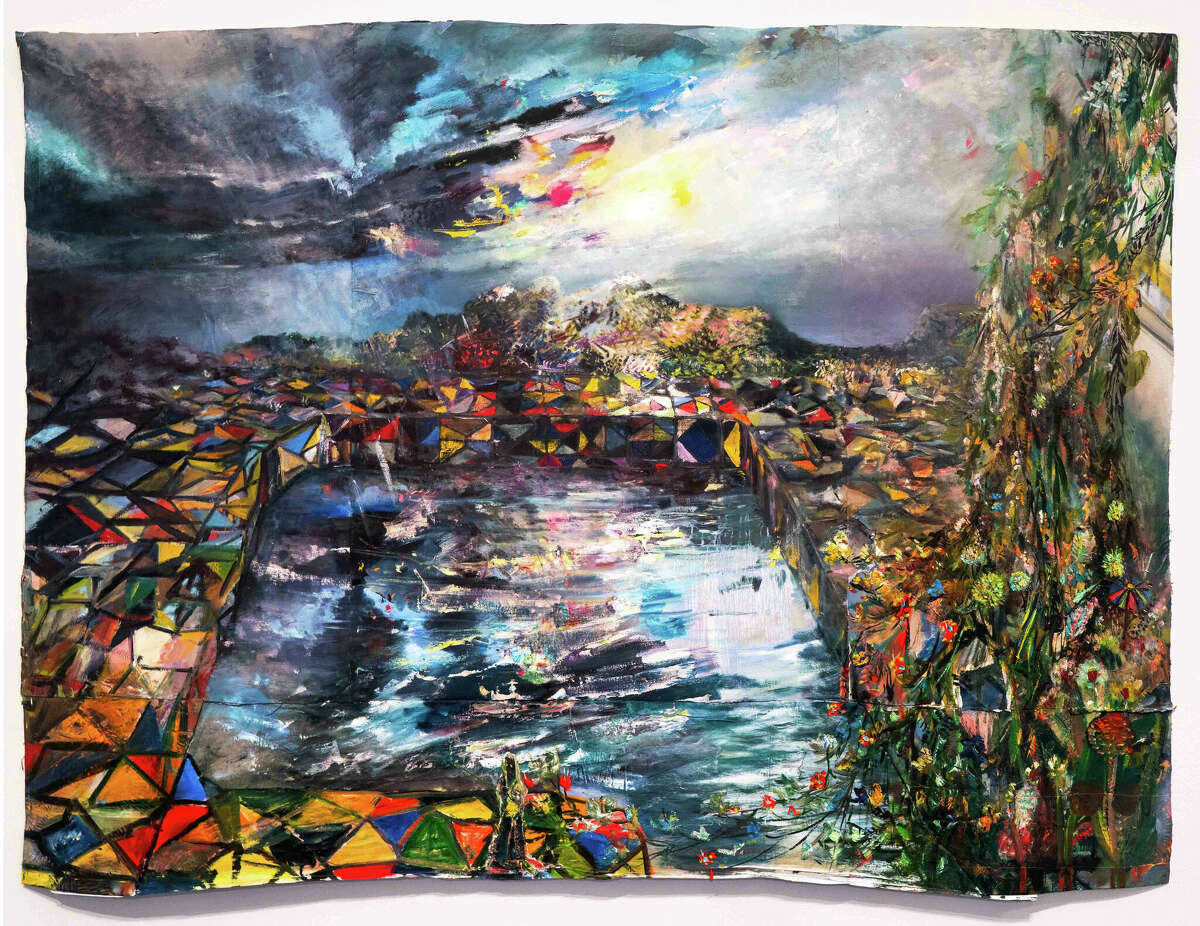 Paula Wilson's "Reflection Pool near Nogal Peak" at  "Paula Wilson: Toward the Sky's Back Door" exhibit at The Tang Museum. William Jaeger
There seems to be no art medium that Paula Wilson has not tried, and her fearless experimentation is part of what makes her growing oeuvre succeed. Her main focus is her paintings, many of them quite large, and these invigorate the main gallery at the Tang in her new show, "Paula Wilson: Toward the Sky's Back Door." Then there are the wooden objects, the kite-like cloth creatures near the ceiling, the small sketches and studies, and the video pieces with aspects of performance. Even the many paintings are more accurately mixed-media works, piling on different materials and kinds of paints in expansive, sometimes delirious ways.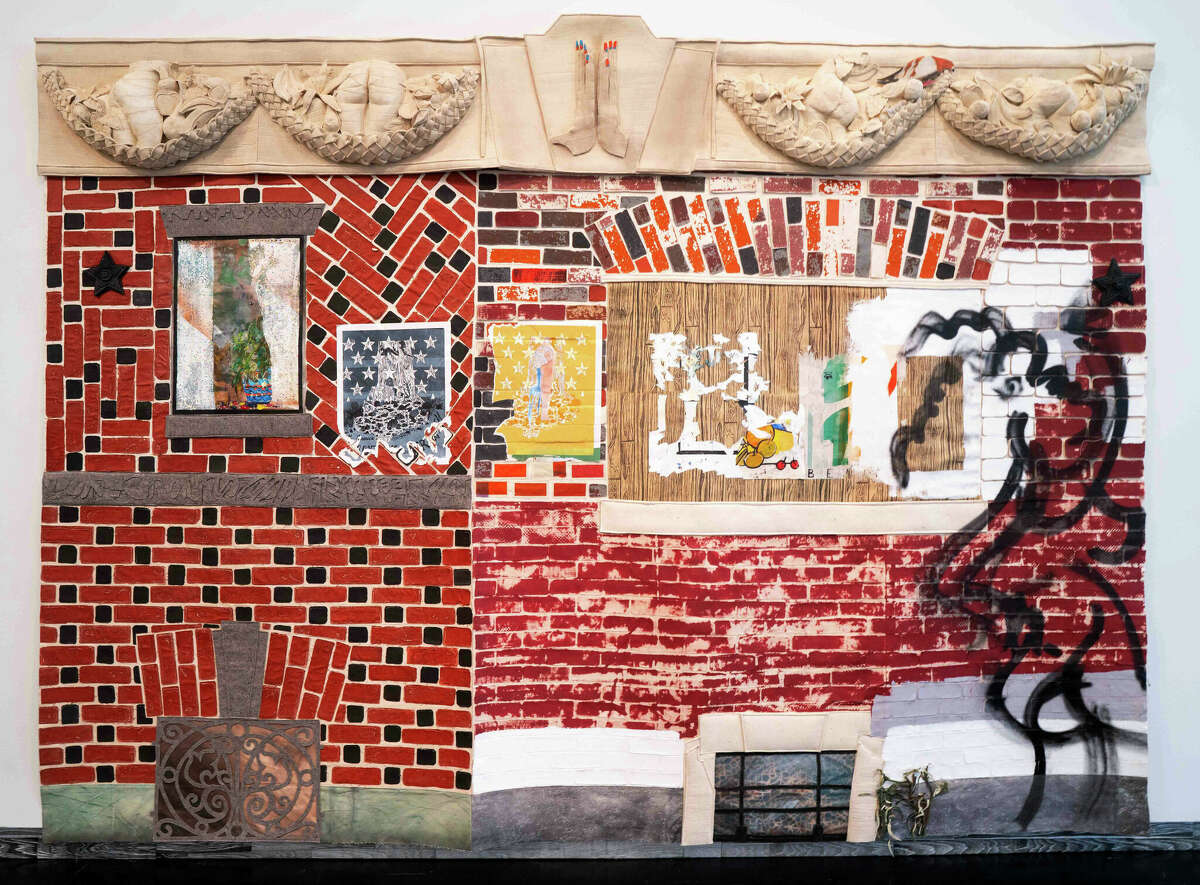 Paula Wilson's "Between Two" at  "Paula Wilson: Toward the Sky's Back Door" exhibit at The Tang Museum. William Jaeger
A relatively simple work like "Light It Up" from 2019 begins to unpack both her methods and the show taken whole. Here we see a girl at a round table drawing on a small piece of paper. A huge and rather exuberant stained-glass window of some foliage takes up much of the background — hers and ours, both. This is for starters a figurative work, a descriptive one. It also uses a large range of materials: woodcut, lithograph, acrylic and oil paint, muslin and canvas. Look for the painted outline of the girl's phone and find that the canvas has been cut away, revealing a video screen behind it all. This shows the wonderful freedom in Wilson's approach.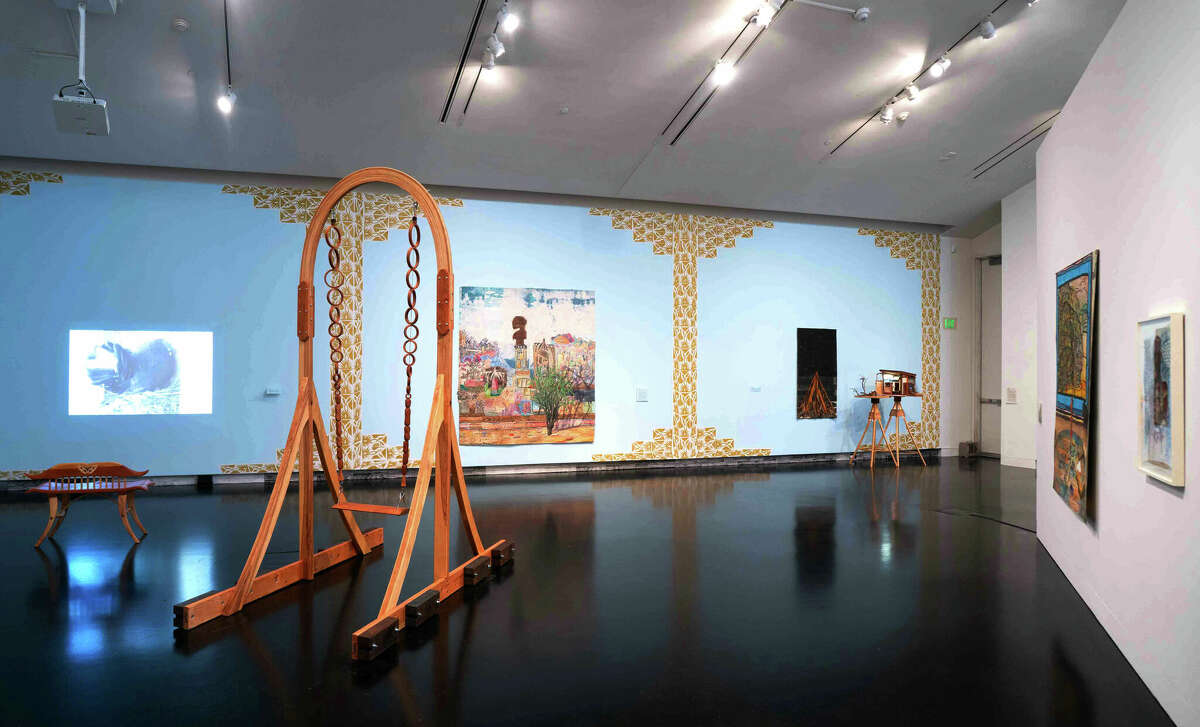 An Installation view of  "Paula Wilson: Toward the Sky's Back Door" exhibit at The Tang Museum. William Jaeger
If nothing here is revolutionary, it all looks confident and convincing, the colors and brushwork making intuitive sense. There are things we might be able to interpret at our own risk — the girl could be the artist (or just any young artist) years ago, her drawing still unstarted, and there are some pretty still-life objects on the table. But the video seen through the phone brings us forward, for we see a woman (the artist herself?), without clothes, as she takes up some charred wood from a fire pit and draws a large vivid nature scene on a white wall.
Wilson's representational works are mostly figurative, and the artist, who identifies as a Black biracial woman, imbues everything with the sense of her own history, if not necessarily creating self-portraits. Nature is everywhere, in plants or shafts of blue sky that hint at the New Mexican landscape where the artist now lives. The works suggest a world that is whole and holistic. A place where body and land, where suggestion and depiction, and where being and doing all merge and energize in a grander, optimistic universe.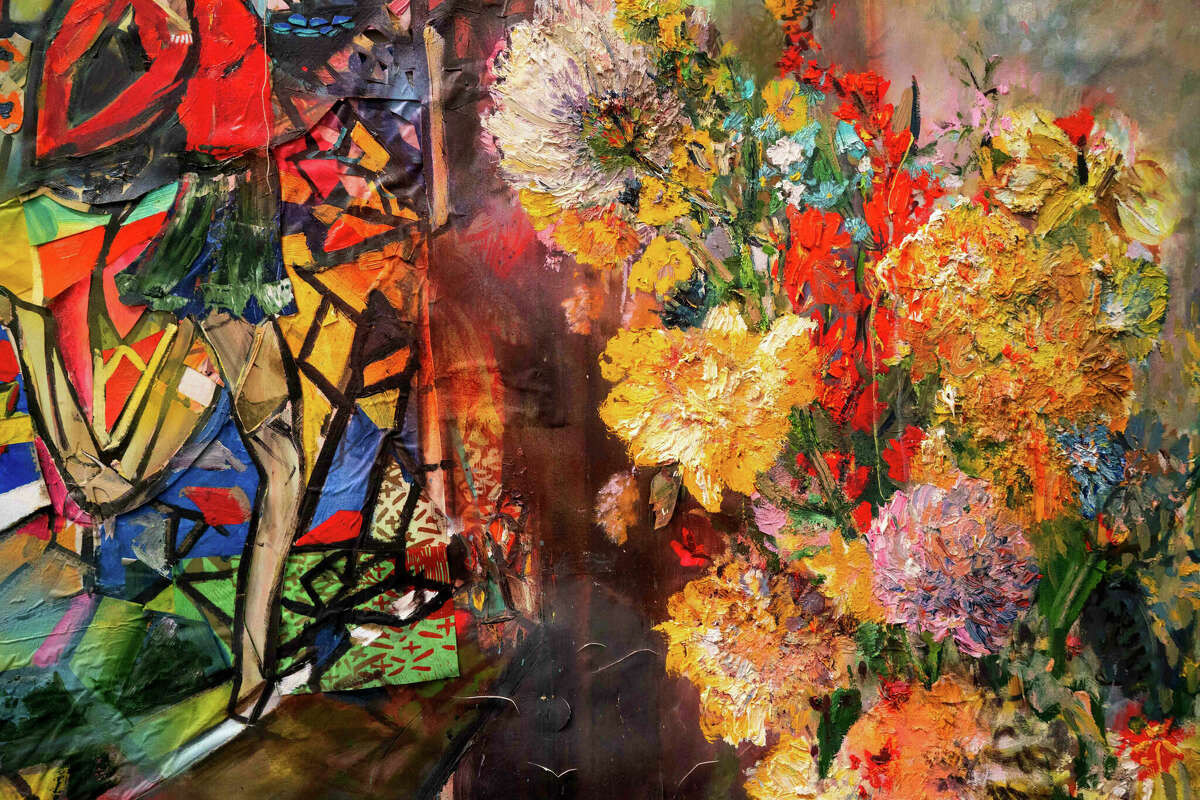 "Tomorrow's Tomorrow" by Paula Wilson at  "Paula Wilson: Toward the Sky's Back Door" exhibit at The Tang Museum. William Jaeger
"The Sky's Remains" completed earlier this year is the largest work in the show, its main figure (apparently the artist) practically touching the high gallery ceiling. This person is wrapped partly in white and partly in a colorful quilt, with cacti at her feet and a bursting sunflower near her hands. She holds a pair of scissors that almost seem to be at work creating the scene that she inhabits, patching together the world she prefers, or that she prefers us to see.
Some works draw this idea out by contrast, using an urban setting. "Bricked Out" is a cloth and paper mixed-media piece that creates a wall with white, tactile bricks. From a window, a pensive woman stares at a colorful bird perched in a fanciful tree. Some larger blocks fill what was once another opening, now sporting some colorful graffiti.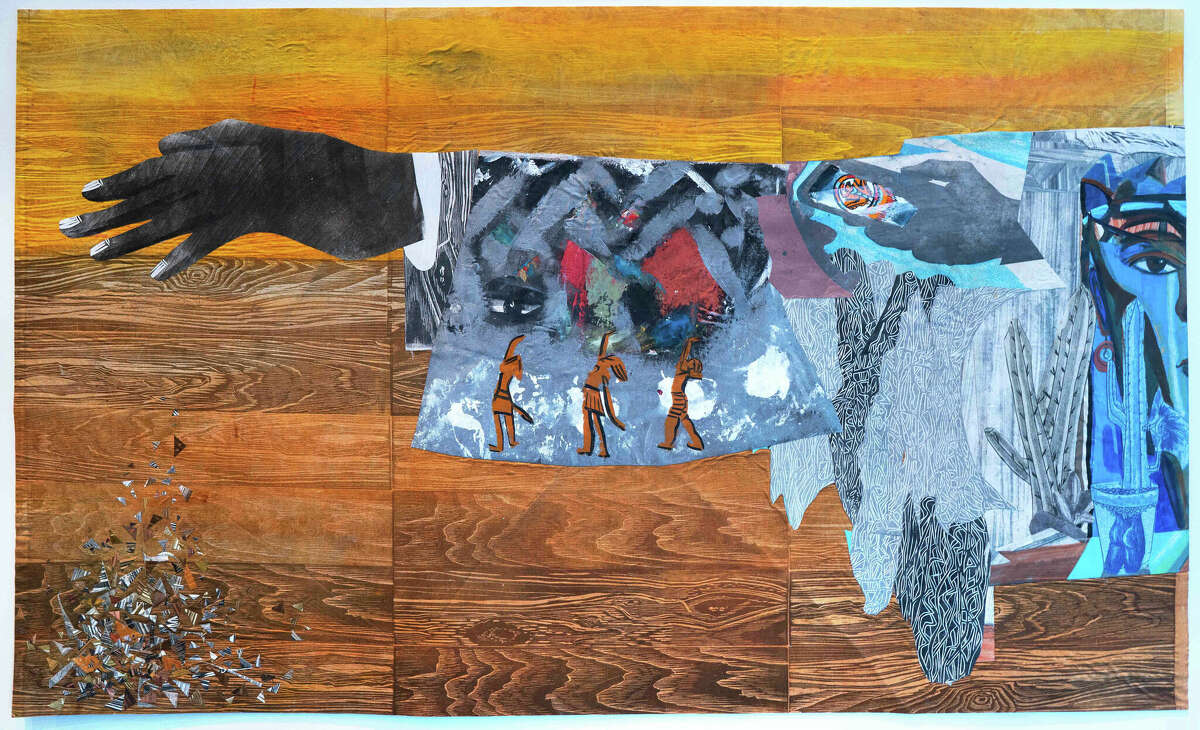 Paula Wilson's "Up My Sleeve" at  "Paula Wilson: Toward the Sky's Back Door" exhibit at The Tang Museum. William Jaeger
This work and others were made in collaboration with the Fabric Workshop and Museum in Philadelphia. In a different kind of partnership, Wilson created some of the wood pieces in concert with her husband, woodworker Mike Lagg. One of these is "Full Swing," an actual swing that you can try out, and which might get you to notice some of the art near the ceiling.
Taken full circle, the exhibition is bracing for its honest warmth, its direct expression of a good life. The kite-like cloth moth above and the yucca rug made of repeating plant designs on the floor, the array of small studies of figures and plants and the semi-fictional wooden model of the artist's home, all the little comments about buttocks (one is called "Grandma's Ass") along with the larger evocations of people at home, at work, amidst nature … this is Paula Wilson's world. And we're all invited.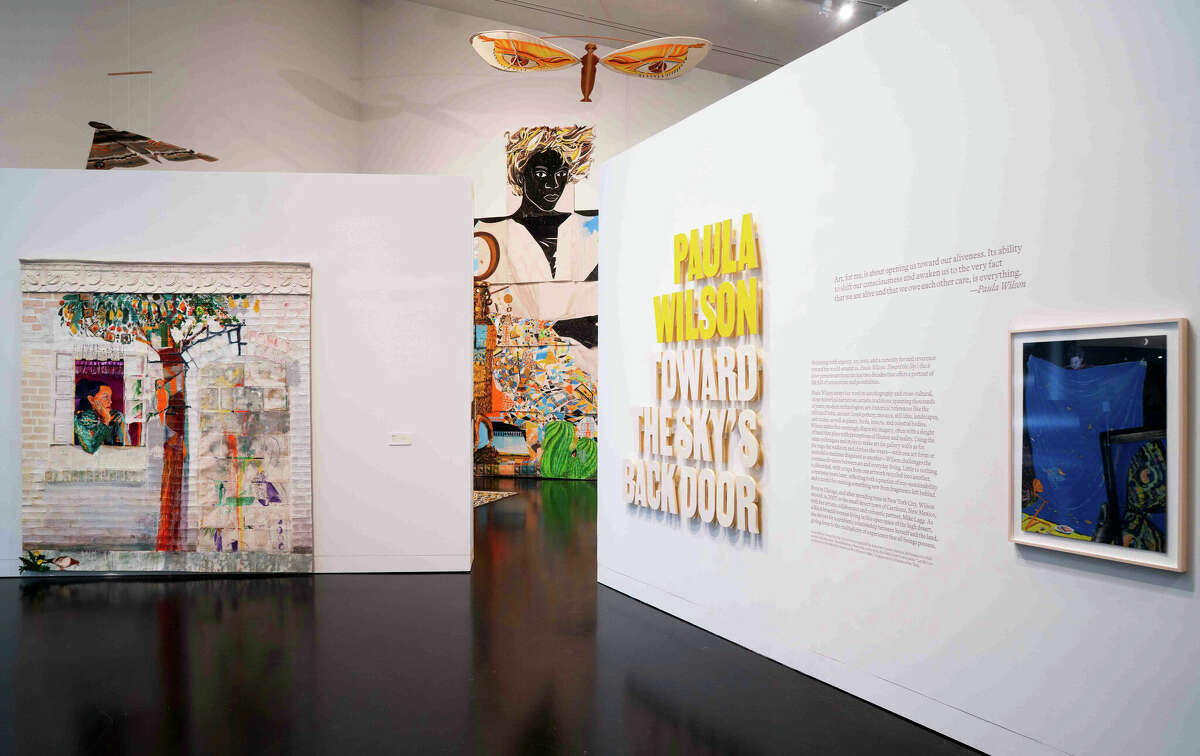 An Installation view of  "Paula Wilson: Toward the Sky's Back Door" exhibit at The Tang Museum. William Jaeger