DAY BEFORE TOMORROW: Exclusive Interview With Artist Damien H. Ding
Artist Damien H. Ding talks about the fragility of human connection and the enigmatic journey of intimacy.
Damien H. Ding's work encapsulates the fragility of human connection and the inevitable dissolution of even the most profound intimacy. The artist employs the language and material of furniture and cabinetry to enable an intimate interaction with painting, evocative household altars, and miniature chapels. His paintings possess a meditative quality that is both intense and suggestive of transcendence through a combination of stillness and velocity.
The works and accompanying structures hold a captivating quality that entices the observer before disclosing strange, covert components that perplex and trigger intense, inexplicable emotions.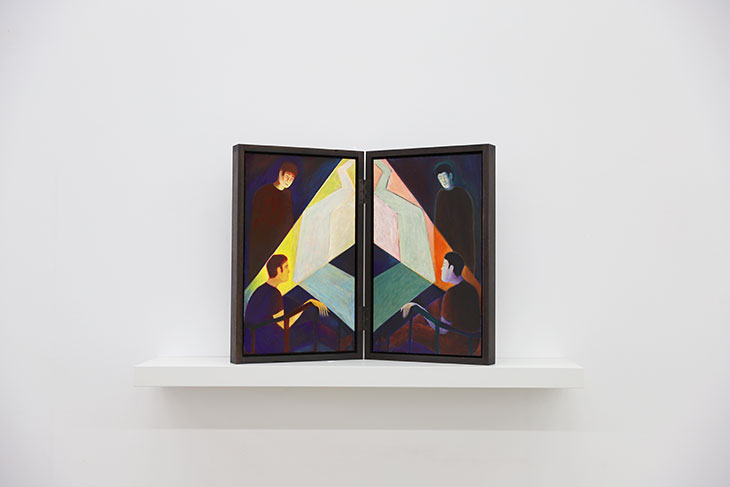 Damien H. Ding, Path (Diptych), Day Before Tomorrow, Photo © Borislav Utjesinovic
How does your background in art history influence your work? – Art history acts as a conceptual environment in which I choose to exist. Like most environments, I am not always conscious of how it exerts its "influence." But having a background in the study allows me to exist in it with spontaneity, having a pool of knowledge to swim and soak in. I often find myself subconsciously drawing from imagery and theory when I reflect on the purpose of my work. I seldom refer to anything directly.
Your work bridges traditional techniques and religious iconography with a contemporary visual language. How did you connect these different worlds and make something that feels unified? – I do not really see any technique as traditional. Even though egg tempera has not been as popular as oil and, more recently, acrylic, it has been consistently in use with some famous examples such as Andrew Wyeth and George Tooker. To me—and this applies to the question about iconography as well—the use of egg tempera makes a lot of sense in the contemporary moment, as we have slowly disengaged ourselves from prioritizing the physicality and illusionistic elements of painting. I think religious imagery before the humanistic turn of the Renaissance has always been very designed and distorted, focusing on the force of the image rather than pure accuracy. I see the same in contemporary painting. Outside of using some modern pigments, it happens without much "trying" on my end.
Does this dichotomy exist in your life? – I think about this often, yet I don't see it as a dichotomy. I am by no means a traditionalist, but I believe an uncritical view of the present and the past isn't useful or truthful. Maybe this is a strong opinion, but I think most people, even self-proclaimed progressives, live with a "traditional" outlook, but maybe traditional is the wrong word to use. There are many models of the past and different ways of living that we can interpret from similar historical moments. It is impossible to live without reflecting on and imbibing in some kind of history.
Do you use your work to express your own secrets and desires? – Yes, but it wouldn't be a secret anymore if I spoke more of it.
The notion of constant productivity and the need to share content are ubiquitous in contemporary society. Do you experience such pressures? – Of course. Being an artist, it is a constant presence in my psyche and something I hope to reconcile soon. This is something I discuss with my peers often. I believe that while sometimes pressures and deadlines are useful, for a creative process, there need to be moments of true nothings where boredom, instead of an obligation, takes over, where the creative impulse pushes one to make something in need of no other justification other than for it to exist.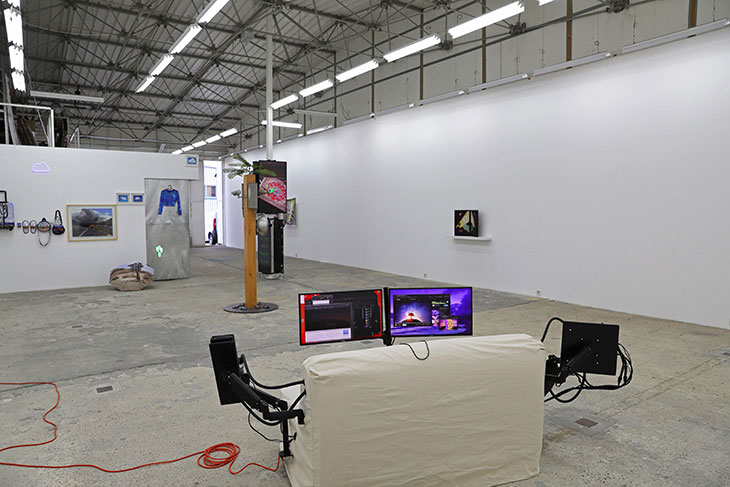 Day Before Tomorrow, Exhibition View, Photo © Borislav Utjesinovic
What is the most overrated thing in the world? – Being cool.
Tell us about your work presented at the "Day Before Tomorrow" exhibition. – The work is a diptych housed in a box made of ebonized mahogany, which opens like a book. The diptych comprises images reflected against each other of two paths that are bright, winding, and alluring.