The Collector by Enid Tsui

Are intense emotions fueling a great period of art-making in Hong Kong?
Long dismissed as a place where art is sold and not made, a recent exhibition reflected a new energy in the city's art scene. Organised by the artists themselves, 'What's On Paper' exhibited works linked by community not theme.
To much of the international art world, Hong Kong is not where art is made but where it is traded. We can shout all we like that this simply isn't true, but the fact remains the international jet-setters who come here for Art Basel don't usually bother visiting galleries representing local artists.
However, this may be changing, a gallerist from New York remarked at a recent exhibition of works by 36 local artists at the Hong Kong Visual Arts Centre, in Mid-Levels.
"Before, people's impression of Hong Kong was that it didn't have much of an art scene, that it was a market and one that was dominated by foreign artists," says Katie Alice Fitz Gerald, founding partner of Manhattan's Denny Dimin Gallery. But the works in December's "What's on Paper" exhibition, she says, showed how an intense "percolation" of emotions is fueling a great period of art-making in the city.
There was a palpable sense of mission at the opening even though the exhibition had no particular theme or agenda.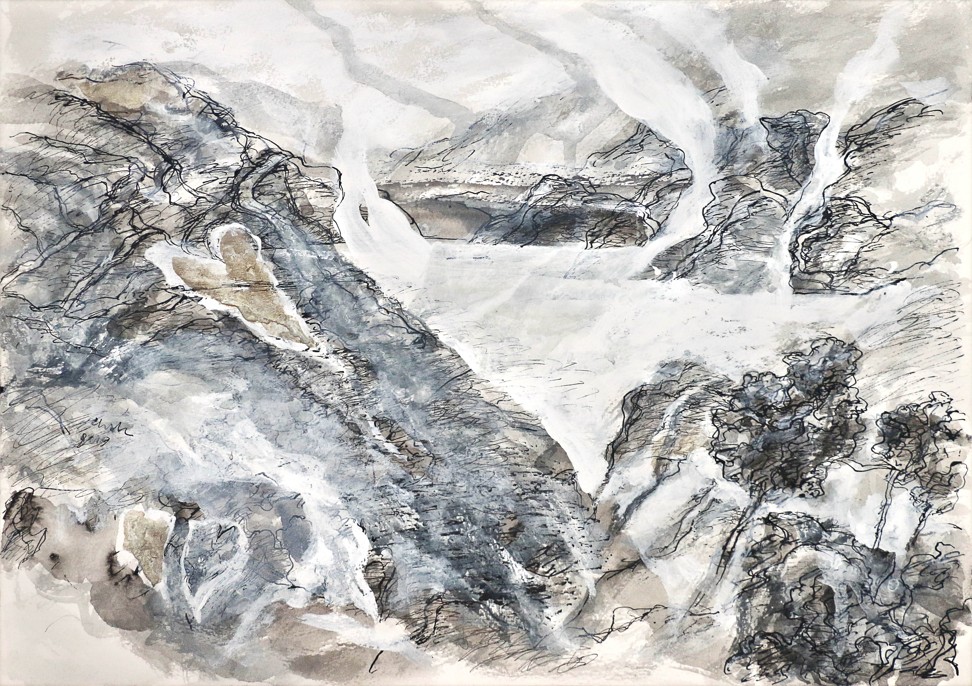 [Three Hearts of Gold (2018), by Chak Chung-ho.]
Chak Chung-ho, the artist and writer who devised the show, says: "I started preparing for this six months ago. It was a nebulous idea initially, that there should be an exhibition that's started by artists themselves rather than by professional curators, and a selection of artists based on community rather than any particular theme. The 36 of us are friends, or friends of friends, and all decided to join through word of mouth."
But as his friend Ho Siu-kee points out, the choice of paper as a shared medium is significant. "I practiced for a long time before I came up with something I dared show in public. I am a sculptor and so my drawing skills are rusty. But it's great to have a chance to get back to the basics," says Ho, who nevertheless ensured his work was sculptural, hanging his graphite drawing of a mountain from a towel rail above a dish of water.
Chak says getting back to basics is important when "anyone can call themselves an artist these days" by dabbling in multimedia art with no formal training.
Another artist on show who doesn't usually work on paper is Sara Tse Suk-ting. She took part because she was going to be present anyway to install a work by her artist sister, Shirley, who lives in the United States. Tse's own piece was undoubtedly the most Instagrammed of the show: a child's shirt made from the distinctive blue-checked paper wrapping of Garden's Life Bread, a ubiquitous breakfast item in many Hong Kong Chinese households that was recently elevated to a symbol of the city's protest movement.
The getting-back-to-basics ethos of the show extended to its intended audience. Chow Chun-fai showed fake newspaper front pages that he drew a few years ago alongside a new work called Gundam In CUHK, a reference to a tense stand-off between protesters and the police at Chinese University in November. He has been "on strike" for the past six months and is no longer painting the film-inspired large works on canvas for which he is best known. "I find myself unable to sit in front of the easel in my studio with all that's going on," he says.
But he has been making art privately and rediscovering the joy of drawing on paper. "I want to remember the faces and the scenes I see on the streets, but most protesters are wary of their photographs being taken. These are drawings that probably will never be seen by anyone except myself, but I don't mind," Chow says.
While this show was not conceived as a political exhibition, whose life in Hong Kong isn't touched by politics these days?
A chilling sense of the despair felt by many of Hong Kong's young people tumbles out of Lo Mei-man's intricate colour draw­ings of children with their faces melting or hidden behind masks. The airline boarding passes hanging above the anxious faces in Greer Howland Smith's paintings are a symbol of rootlessness and lack of security.
But on opening night, at least, the mood was jubilant, a sense of solidarity emerging from the wonderfully odd assortment in attendance, including academic and photographer David Clarke, older artists such as Kwok Mang-ho aka Frog King, who tossed printouts of his playful calligraphy onto the floor like offerings, and Poon Yuen-leung, who had turned his popular Canto-pop lyrics into bilingual concrete poetry.
With the diversity came many different ways of seeing this city in crisis. Eric Niebuhr's studies of the colourful monkey grips and ropes used by deliverymen and the old women who collect cardboard boxes, and Kirsteen Pieterse's paper maquettes of her steel sculptures, capture the energy of Hong Kong in their own sensitive way.
"What's On Paper?" was on show for only four days in December. But it will long be remembered as a celebration of art, community and cosmopolitanism at the end of Hong Kong's annus horribilis.